Meet our Interns!
ICA Japan has had interns from all across the globe employing their skills with our goals, developing not only them but ICA Japan itself.
Our Current Interns
Bing Rethy
Studies at UCSD
United States of America
Darragh Granston
Studies at Leiden University
Ireland
Shawn Beckers
Studies at Leiden Univeristy
The Netherlands
Valeria Ruiz
Tecnológico de Monterrey
Mexico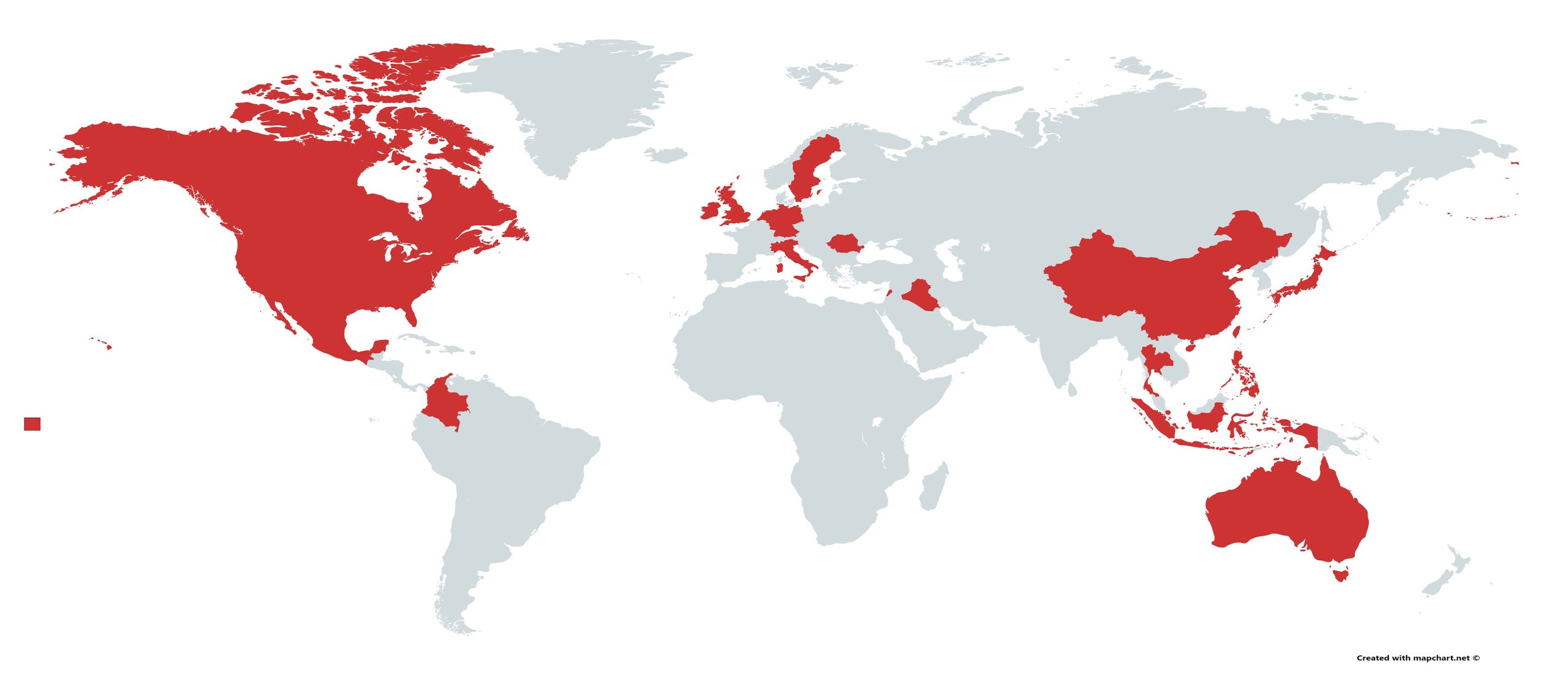 Where our Interns are from!
Australia, Canada, China, Columbia, Germany, Indonesia, Iraq, Ireland, Italy, Japan, Lebanon, Mexico, Nepal, Philippines, Romania, Singapore, Sweden, Taiwan, Thailand, The Netherlands, United Kingdom, United States of America
Lipikar Lindman

Uppsala University

Nepal
Betelhem Beka

Rotterdam University of Applied Science
The Netherlands
Sanhajarin Lerrtantisootorn
Università Cattolica del Sacro Cuore
Thailand
Rayane Hassan

University of Saint Joseph
Lebanon
Ricardo Montrose

University of Montreal

Canada
Chaula Rininta Anindya
Rajaratnam School of International Studies
Indonesia
Ruxandra Florea

Waseda University

Romania
Barbara Felicitas Boncek
Ruhr-University Bochum

Germany
Barbara, 2018 - I started my internship at ICA Japan in February 2018 and it was one of the most rewarding experiences regarding my studies. I was not only able to learn a lot about the projects and human development but also improved soft skills like managing the website, using Photoshop and my Japanese skills. The most influencing and overwhelming experience was my trip to the cities Namie and Minamisouma in the Fukushima prefecture. It really was interesting to see how the people there work in cooperation with the NPO to revitalize the community again. The working atmosphere at ICA Japan is very friendly and I am glad for the opportunity of interning there.

Amanda Liu, 2017 - Interning at ICA Japan has been one of the most rewarding experiences I've had so far in Japan. ICA Japan, with its small work force, has changed the lives of so many and continues to strive to ameliorate lives of people around the world. ICA Japan offers you the opportunity to not only learn about NGOs and NPOs, but also to put thoughts into action.

Ricardo, 2017 - My internship experience at ICA Japan has been not only interesting, but also very rewarding and allowed me to learn a lot about NPOs, community development and other aspect of ICA's work. This internship also gave me many opportunities that I would have never gotten otherwise, like going to different events around Tokyo to meet new and interesting people, doing a research trip to the city of Asago in the west part of Japan or going to Fukushima to help with cleaning activities. I also acquired a lot of technical skills, notably in web and graphic design. I would certainly recommend this internship to anyone.
You can apply for an internship at staff@icajapan.org with the subject heading "Internship"
Please provide your CV, a short motivation letter and your preferred start and end date.